Barbara Moynihan founded On Your Feet in 2010.
Some years before that, in her early 20's she stood, nervously, in front of a room of people and realised that public speaking was not as easy as it looked.
Many years later, following a career in finance, she decided to help others overcome the public speaking difficulties she herself had encountered.
She is a well-known and regular speaker at conferences and events. She has won several business awards:
Network Ireland  Business Woman of the Year Dublin 2014
Network Dublin, Small Business of the year award for 2017
Best Small Business Award 2017
Business All Stars "Thought Leader Public Speaking" 2018
President, Ireland Region, Professional Speaking Association Ireland and UK 2020
We are a small team of facilitators, but with a wide diverse of business experience both in Ireland and overseas.  In addition to this we all hold internationally recognised training qualifications.
As a team we hold many qualifications.  These vary from IT, to coaching, through to Masters degree level in Management Practice.
We believe that the combination of our real-life business experience and the academic qualifications help us to understand our clients and help them better, regardless of the type of business they operate in.
We know we are different from others who do what we do and here are 10 reasons why:
We believe one of the most important elements in presenting is to be yourself and we always focus on this during training.

Prior to attending any of our sessions we have a process to find out exactly what you wish to achieve – this allows us to deliver more targeted training.

We do not run an entire suite of training programmes. We niche in our area and are experts.

Our methodology is based around "learning by doing" and keeping things highly interactive.

We focus on getting you "on your feet" as often as possible.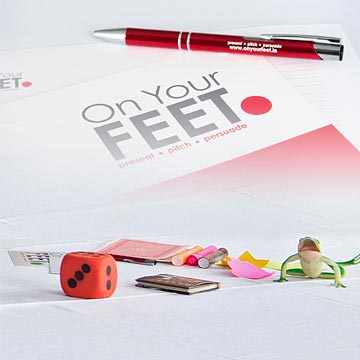 We run all of our training extremely professionally, yet also keep the atmosphere relaxed and fun.

We run our courses from 9 to 5:30 – 2 hours longer than many of our competitors.

We video you and give you supportive yet extremely frank and focussed feedback.

We always give the video feedback 1 to 1 in a separate room.

If you are not entirely satisfied – we will give you your money back.
Corporate Social Responsibility
A portion of the proceeds from each On Your Feet masterclass has been donated to the Irish charities below over the last few years.