How to present with impact to a hybrid audience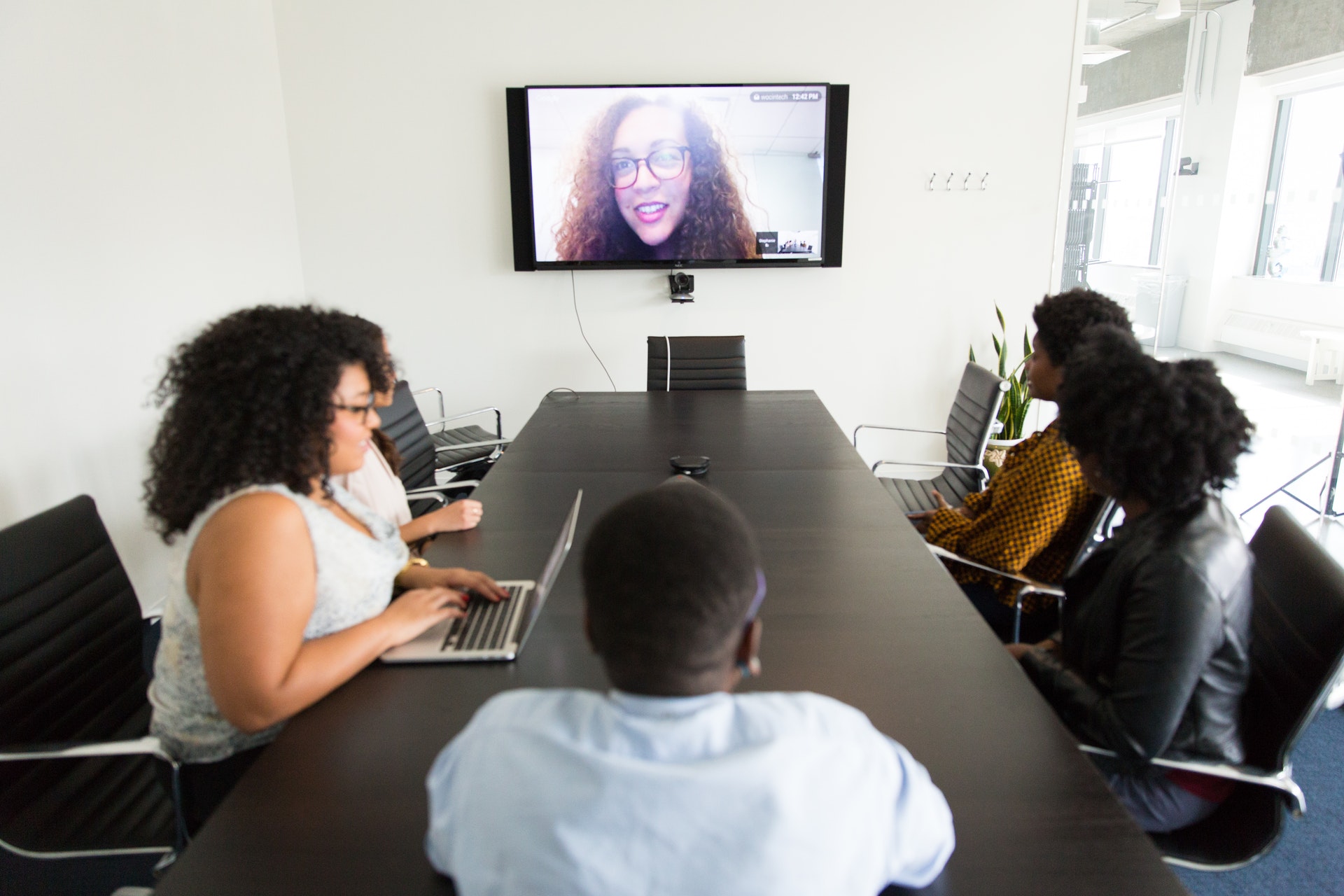 According to a new Harvard Business School Survey 61% of people say they would like to have a hybrid working structure.
And a survey from CIPD Ireland in March of this year, found that one in two businesses in Ireland plan to adopt remote working in some form on a permanent basis.
With this in mind, we can safely say, that the virtual and hybrid world is here to stay.  So, it is time to add some new relevant skills to your presentation skills toolkit.
Read on for practical tips that will help you deliver your presentation effectively and with impact to a hybrid audience.
1. Room and equipment set up
Even though there will be people physically in the room for your presentation or meeting, your main priority and focus when setting up the room should be on the people who will be attending virtually.
Focus on what the virtual audience will need in order for them to feel included and be fully engaged.  Set the room up with them in mind, as they will need to see everything including:
The faces of the in-person attendees
Your presentation and any other shared documents, including physical documents that you may hand out to the in-person attendees
Any content written on flipcharts / brain storming ideas etc.
With that in mind, think about the location and positioning of the web cameras.  Not only will you need one to cover you as you present, but you'll also need one (or more, depending on the size of the room, number of in-person attendees etc) to face the people in the room, as well as any flip charts, props etc if you're using them.  You can then set the web cams up as "participants" in Zoom (or whichever virtual platform you use) so the virtual attendees can see everyone and feel more included.
Sitting or standing?
Bear in mind whether you will be seated for the presentation.  If so, you need to be aware of the location of your seat – obviously, it needs to be close to a camera so virtual attendees can see you, your facial expressions and your body language.
But also look at what's behind you – are there lots of distracting objects/pictures that will take the virtual audience's attention away from you?  Is there a window behind you?  If so, position your seat somewhere else or you will make it harder for the remote attendees to see you properly.
If you are standing for your presentation, be mindful of the camera that will be focused on you – is it a single fixed point?  In that case, you will need to check where you can move to and still be visible on camera, so the virtual participants can see you.  One suggestion is to put a bit of tape on the floor as a boundary marker for you, so you know not to step past it and remain on camera.
Audio
Another thing to remember is the audio quality.  Make sure you know the location of each microphone in the room.  If there is only 1 microphone, then be aware of directing your voice towards it so the virtual attendees can hear you clearly.
If possible, try to get your hands on a lapel mic for when you're moving around the room or standing to present etc.
2. Audience engagement
Eye contact
As with standard in-person presentations, we would recommend using the 'lock and look' technique, where you look at a person for 3-5 seconds before moving on to another random person.  The difference when you're presenting to a hybrid audience is that some of the people are replaced by a camera, so you just have to remember to include the camera when randomly choosing the next person to look at.  Make sure to look directly into the camera for at least 3 seconds, to help create a connection with your virtual participants.
Interactive tools
Remember that the attention span of your virtual audience will be less than the in-the-room attendees, so you need to mix up the content every so often.  When you design your presentation, allow for interactive time to help keep both virtual and in-person attendees engaged.  Most virtual platforms now have good features to help with this such as:
Break out rooms: split the in-person attendees into smaller groups and add them to break out rooms with the virtual participants.  Do not just put all the virtual attendees into one group and in-person ones into another.  The idea is to help the remote participants integrate as much as possible with the in-person participants.  For example, in-room attendees could join the meeting via their phone using headphones, or via their laptop using a headset*, and be part of the virtual break out rooms. (*if not using headsets there is a danger of feedback)
Polls: these are a great way of getting input and feedback from all attendees.  However, don't just rely on people raising their hands or shouting out their feedback – try to use a phone-based polling app so you can receive everyone's input and a true combined total.  This will also ensure everyone is on equal terms.
Whiteboard: If you are using flip charts but don't have another webcam to focus on them, consider using an online whiteboard instead so everyone can see.  For example, within Teams and Zoom you can use their own meeting whiteboard.  If your virtual meeting platform does not have a virtual whiteboard consider using a programme such as Miro.
Questions
When you are planning your presentation, think about your Q+A session.  Will you allow for questions throughout the presentation or just at a specified time at the end?  How will the virtual participants be able to ask you questions?  Are you going to use the raised hands method, or can attendees just shout out?  These are things you need to think about before your actual presentation and allow for extra time to ensure it runs smoothly!
Networking
It's obviously going to be easier for those in the room to network with each other, so it's essential that you allow the opportunity for the remote attendees to network with everyone too.  It is your job to help connect the virtual participants with the in-person ones, one way of doing this is by using break out rooms as mentioned in the Interactive Tools section above.  This will help make the time more personable to everyone plus they will be engaged before you start your presentation!
Slides
Your presentation slides need to be engaging from the beginning.  Use a mixture of good visuals and videos to help keep the interest of your virtual audience.  If using text, remember to use a larger font size so it's easier to see on their screens.  Also consider using PowerPoint's annotation tools to focus their attention to a specific area on the slide.
3. Set ground rules
As with all meetings/presentations, it's usually best to set a few ground rules before you begin.  These can include things like:
muting phones & notifications to minimise distractions (for all attendees)
asking them all to raise their hand before they speak or ask questions – again, for both virtual and in-person attendees
asking virtual attendees to turn their cameras on
keeping conversations between in-the-room attendees to a minimum (so as not to disengage the virtual audience)
By establishing ground rules before your presentation, you minimise the chance of any awkward situations arising.
Presenting to a hybrid audience is certainly different and brings its own unique challenges.  However, as with any presentation, the key is in the preparation.  If you follow the above tips, and practice your presentation as much as you can – in the actual room you'll be giving the presentation in, if possible – your hybrid audience will feel included and engaged.
If your team would benefit from training on delivering virtual presentations, please get in touch and ask about our 1 and 2 day Virtual Presentation Skills Masterclasses.