Tips from the PSA (Professional Speakers Association) UK and Ireland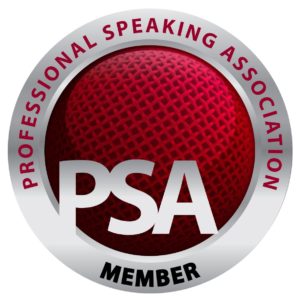 As a member of the Professional Speakers Association UK + Ireland – I am fortunate enough to be exposed to fantastic speakers with fantastic tips.  The annual annual UK + Ireland conference was held recently in Reading.  The speakers were not just from Ireland and the UK but we also had speakers from Canada, USA, South Africa and New Zealand.  We were also privileged to have the company of  two Global Speaking Federation Presidents, from the USA (NSA – National Speakers Association) and Asia (GSF -Global Speakers Federation).  So we were in great company for the 3 days.
Below are tips from some of the speakers – as relevant here as they are in their own countries!
Tip 1 – customise your content
This first tip came from David Newman of doitmarketing.com.  As we were in the UK, he had references to cups of tea vs cups of coffee which he would refer to in his native USA.
Several of his slides had obviously been tailored for a UK audience.  For instance, he spoke about goals at one stage and showed a very famous UK football team, called – Manchester United, I think?!  Simple amendments to make, but really does make the audience feel the content is especially for them.
Tip 2 – get rid of content!
So, from customising your content – to getting rid of your content!  You probably have stories that you use to help drive your messages home.  But, regardless of how much you love these stories and how well they really work – every year you should change 20% of your content.  This was the advice of Faith Wood who hails from Calgary in Canada and is a speaker, trainer, entertainer, coach and a hypnotist.
Faith reckons that every story has its sell by date – so, even if you really love a story, be tough and get rid of it.  It hurts … but it is definitely a good move!
Tip 3 – be flawsome on camera
This tip came from our own President of PSA Ireland – Lottie Hearne.  Lottie is from confidenceon.camera and is the queen of video coaching.  Lottie's advice to us was in relation to creating video content on-line.  She shared some of her tips from her new book "Confidence on Camera" and showed us how to be "awesome" but reassured us that it was ok also to be "flawsome".  In other words, when creating your on-line videos, don't worry about the odd little hic-cup aka flaw.   Better to be human than to be perfect.
The "flawsome" tip can apply to your face to face presentations too – no need to be perfect, it is more important to be human.
Tip 4 – avoid the slide trap
Paul du Toit of congruence.co.za hails from Cape Town and he shared 7 traps to avoid in presentations.  My favourite one was  – The Slide Trap.  He was singing my song!  The point he made was that the more PowerPoint slides you have, the more time you spend preparing your slides – time that could be better spent elsewhere.  The less slides you have, the more the listeners are likely to remember YOU and what you actually said.  A simple message but one that most of us could do with applying!
Tip 5 – talk nicely to yourself and to others too
This was my interpretation of something that Nikki Owen, the charisma model, shared when she told us about The Big Apple Experiment.
Nikki did an experiment where she cut an apple in half.  One half went into a jar labelled 'love' and the other half into a jar labelled 'hate'.  For the next fortnight she lavished love on the 'love' jar and hate on the 'hate' jar.  After a fortnight you could see how the half lavished with love decayed significantly slower than the half in the hate jar.
So what was her message?  Well, if we can slow down decay by talking nicely to an apple or speed up the decay by talking in a nasty way …. then, what positive or negative impacts are we having in the way that we talk to ourselves?
A really great message.
So, remember to talk nicely to yourself and to those around you, it has more of an impact than you might think.
PS – if you want to relate this to a presentation tip, quite simply remember to talk positively to yourself before your next speaking event and notice the difference!
If you want to boost your own presentation skills, why not come along to our next one day Presentation Skills Open Masterclass